Ustavimo masovno pobijanje psov zaradi obiska Papeža v Sarajevu!
V mesecu juniju,natančneje,6.6.2015 bo Sarajevo gostilo Papeža Frančiška.Zaradi njegovega obiska so na državni ravni odločili Sarajevo "počistiti" brezdomnih psov.Tako bi naj na brutalen način umrlo 12.000 nedolžnih bitij.
Vsi vemo,da je Papež Frančišek velik ljubitelj živali,zato mu je potrebno poslati v vednost,kaj počne politični vrh BIH,ki brezsrčno in na nehuman način "čisti" ulice,hkrati pa preprečuje reševanje psov z udomitvami v druge države.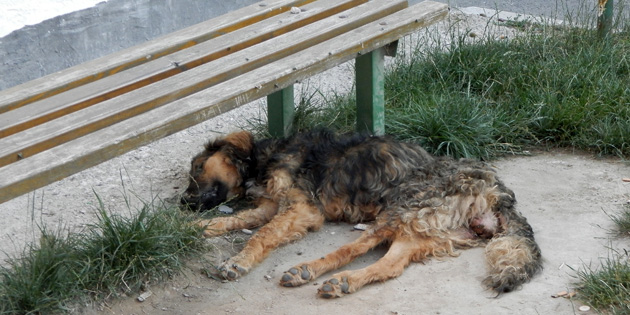 POMAGAJ USTAVITI GENOCID NAD PSI V SARAJEVU
Ali veš, da:
v Sarajevu sistematično pobijajo VSE brezdomne pse (tudi že sterilizirane/kastrirane in nekonfliktne)?

pri tem uporabljajo vrsto nehumanih metod (udarci s sekirami, pretepanje do smrti, zastrupljanje, injiciranje čistil v kri itd.), zaradi česar psi umirajo v agoniji tudi več ur?

gredo v svoji sprevrženosti celo tako daleč, da z neizdajo dokumentov in izmišljevanjem novih in novih zahtev preprečujejo izhod iz tega pekla tudi psom, ki so jim v drugih državah ponudili dom?

junija letos v Sarajevo prihaja papež, zaradi česar so še intenzivirali pobijanje?
Ti je mar? Ne bodi le nemi opazovalec, saj s tem poboje odobravaš! ZATOREJ UKREPAJ ZDAJ:
PODPIŠI peticijo, ki jo bomo poslali papežu in ga prosili za pomoč, saj verjamemo, da kratkoročno lahko prav on naredi največ.

POŠLJI peticijo naprej, da jo podpišejo tudi tvoji družinski člani, prijatelji ... in jo tudi pošljejo naprej. V slogi je moč!
Iz srca hvala v imenu brezdomčkov, ki so sami na milost in nemilost prepuščeni tem nehumanim krvnikom.
Janja Pilinger, Karin Elena Sánchez in Maja Kamin
HELP US STOP GENOCIDE ON DOGS IN SARAJEVO
Do you know that:
ALL homeless dogs in Sarajevo (even those sterilized/castrated and non-conflict) are being systematically killed?

a range of inhumane methods are being used in that slaughter (e.g. strokes with axes, beating to death, poisoning, injectioning of detergents into the blood system) causing dogs to be dying in agony for hours?

are going even further in their degeneration: not issuing documents and imposing new and new requests to dogs, already offered a home in other countries, are hindered a way out of this hell?

the Pope is visiting Sarajevo this June, therefore killing of dogs has been even intensified?
Do you care? Do not be just a speechles observer, yet acting so you are approving killing! THEREFORE TAKE STEPS NOW:
SIGN the petition;  which will be sent to the Pope. We shall ask him for help, for we believe that he is the one who can do most in the short run.

PASS the petition ON, so it will be signed by your family members, friends … and ask them to pass it on.  Unity makes strength!
Our heartfelt thanks on behalf of homeless dogs who can not stand for themselves.
Janja Pilinger, Karin Elena Sánchez in Maja Kamin